In this post, we will be reviewing one of the best-selling trading systems out there in the market today called the ChinEtti Pip Collector by ChinEtti. We got a chance to test it, so here's our honest ChinEtti Pip Collector review.
The reason why most traders are making great strides and profits in forex is that they are using one of the most powerful, smartest, and most accurate forex trading tools on the market. Well, there is no forex system that can give you 100% accurate trading signals but there are very few systems that can give you consistent profits.
The fact that a person who does not make a profit and is always banging against a wall is because this person does not have this kind of tool. So let's see whether the ChinEtti Pip Collector can do the job and make you consistent profits.
The ChinEtti Pip Collector is a manual forex trading system that is recommended to run on the 30 minutes and higher timeframe charts of any currency pair. I would be sticking to the major currency pairs such as the EURUSD & GBPUSD due to the low spreads and plenty of liquidity they usually have. The best results for us produced with M30 and H4 time frames trading with EU, UJ, and GU currency pairs.
During our ChinEtti Pip Collector review testing, it was revealed that the ChinEtti Pip Collector does not repaint so the signals should not change later. This is actually a plus factor because these days non-repainting forex systems are hard to find in the market.
Both buy/sell Arrow signals and the Trend direction line is color-coded. If you are color blind, then there is an option to change the colors from the indicator as you wish.
It works flawlessly because there are no bugs and you may run it on as many charts as you wish for more trade opportunities. In our testing, it was noted that the system gives more accurate signals during the New York and London sessions.
It comes with a built-in sound desktop popup alert, email alerts, and push notifications that notify whenever any new signal is generated.
Pop-Up Sound Alert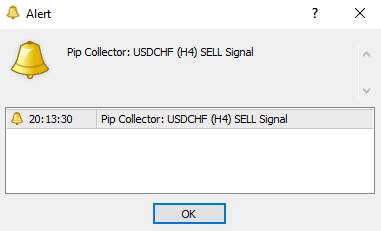 Email Alert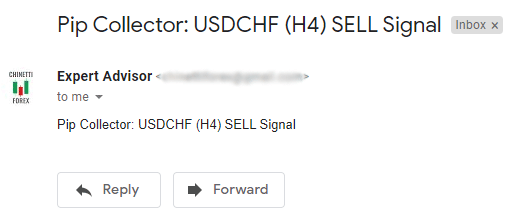 Push Notifications


Trading Results
ChinEtti claims that the system gives more than a 90% win rate which is a bit optimistic per our trading results. During our test, we took 10 trades in the H1 timeframe and got 8 wins out of 10 trades with an 80% accuracy. This is a very good win rate compared to other Forex systems in the market.
We used the Pip Collector system per the rules explained in the User Guide.
Tip: While trading, we felt the use of Support and Resistance zones along with the system could further increase the win rate.
Below is the trading history for 04/19/2021 from our Live account.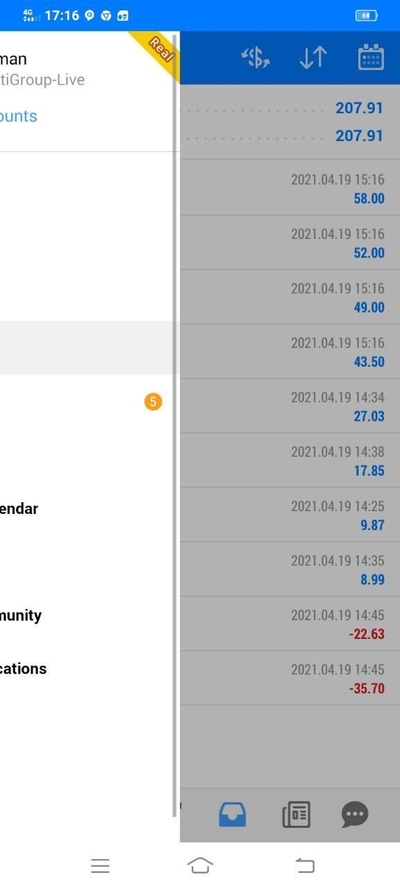 In addition, there are many positive reviews published under his official YouTube channel video comments section (https://youtu.be/bCY7ITPukGs) which justifies that this forex system is legit. Most people who actually bought the ChinEtti Pip Collector system have published some great reviews about their experience, results, and tips about the system. You can read these comments to get an idea about the system before purchasing it.
About the Creator
ChinEtti seems to be a USA trader with over 10 years of trading experience. We've always known ChinEtti as a very good non-repaint indicator coder and forex system developer. His official website (https://www.chinettiforex.com/) has some decent forex indicators, scripts, and expert advisors developed by him. The majority of them are indicators, and from time to time he will release an EA as well.
Summary
Pros
– Easy to set up and use
– Works with both mt4 and mt5
– Desktop/SMS/email signal alerts
– Works with any currency pair
– Works with indices and futures
– Detailed user guide
– Free upgrades
– Good support
– Lifetime license
Cons
– Not an Expert Advisor/Robot
– Not for Binary trading
– Arrows & Trend line colors are the same
Our Final Words
Overall, ChinEtti Pip Collector is a simple forex trend following system that even a beginner should be able to use without any problem. Our test results revealed that the system is profitable and can make good profits if you trade per the system rules. I would try to keep money management smart with a good risk to reward ratio and would want to verify every single trade set up before taking trades. Whilst being very easy to use, it does require patience and discipline. You can use Support and Resistance to confirm trade entry and exit to increase accuracy.
You may want to try ChinEtti Pip Collector on a forex demo account to begin with until you become familiar with it. A detailed User Guide explaining how to use it and a step-by-step system setup video are included in the final product. It took us just 5 minutes to set up the system and it was well explained.
Right now you can get this system at a discounted price from its official website. The original system comes with a User license and free future upgrades. There are fake systems on the internet that claims ChinEtti Pip Collector which comes with repainting junk indicators. So it is important that you purchase the system from the official website to get the maximum benefit out of it.
Hope you enjoyed our ChinEtti Pip Collector Review!